Hell yeah!
Apa kabar pemirsa di cyber world?! Rindukah kalian dengan bacotan saya? Ironis sekali karena sepertinya saya hanya mengepost 1 artikel per bulan. :'( But, it's okay. Karena saya mau share tentang sesuatu yang sedang saya inginkan sekali saat ini. Hmmm... lebih tepatnya yang saya inginkan ketika saya membuka halaman awal
Google
.
Biasanya Google selalu menampilkan gambar-gambar menarik di lambangnya yang menandakan sebuah peringatan di hari tersebut. Dan kebetulan, hari ini, Minggu, 3 April 2011, Google menampilkan gambar
Ice Cream Sundae
! (Yes! I think I'll spend all my money after post this article).
Siapa yang gak suka Ice Cream? Coba angkat ketek. Klo gak suka, silakan kasih ke saya, karena lambung saya siap menampung indahnya rasa Ice Cream.
Sundae
sendiri merupakan makanan penutup atau dessert yang sudah menjadi American icon. Biasanya terdiri dari sesendok Ice Cream dengan toping sirup di atasnya, atau terkadang ditaburi kacang,
whipped cream
, atau cherry.
Beikut adalah gambar dan isi dari Ice Cream Sundae.
#
1 Consist of Vanilla Ice Cream, Chocolate Sauce, Whipped Cream, Wafer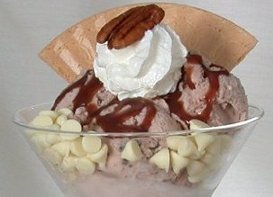 #2 Consist of Chocolate Ice Cream, Chocolate Sauce, Squirter Cream, White Chocolate Pieces, Walnut, Fan Wafer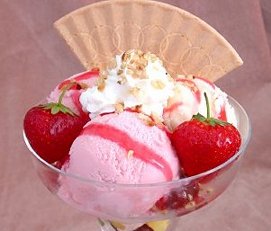 #3 Consist of Strawberry Ice Cream, Strawberry Sauce, Fresh Strawberry, Squirter Cream, Chopped Hazelnut, Fan Wafer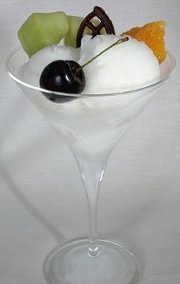 #4 Consist of Lemon Sorbet Ice Cream, Chopped Fresh Melon and Orange, Cherry, Chocolate Leaf Decoration
Kind of Ice Cream Sundae
Well, saya harap Anda tidak menyalahkan saya karena membuat diri Anda begitu menginginkan makanan asal Amerika ini. Tidak dipungkiri juga selama menulis artikel ini terjadi gejolak di perut saya. Hehehe...
Ada 1 tempat juga yang harus dikunjungi untuk para penikmat Ice Cream,
Ragusa Ice Cream Italy
! Terletak di Jalan Veteran I No. 10, Jakarta Pusat, nikmati rasa Ice Cream tempo dulu! (promosi)
Yeah! After posting this article I will go to Ice Cream store to enjoy their Ice Cream. I want it so bad!